Last week we welcomed new and returning students with the Sustainability Picnic. Students connected with a variety of Auburn University sustainability offerings, including student organizations to join, academic opportunities, and some of the local and healthy food choices on campus.
Picnickers listened to music by Caroline Jackson and the Flint Brothers.  Students won great door prizes throughout the event, and also received a Frisbee to use as a plate, an insulated cup from HBO, and portable utensils. To support the goal of hosting a zero-waste event, stations allowed picnickers to sort their waste into recycling, compost, and reusables, like the cups, Frisbees, and utensils.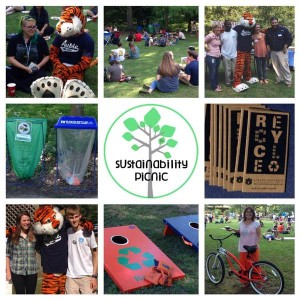 Tiger Dining prepared a delicious spread of fresh and local food. In addition, they invited nearby farmers and producers who provide food for campus to show their goods. The campus community met suppliers from Extreme Green Hydroponics, Mc Ewen & Sons, Hornsby Farms, Jesse's Girls Honey, and the AU Meats Lab. The picnic also celebrated the grand opening of the Terrell Market, located in Terrell Dining Hall in the Hill, where everyone in the Auburn community is able to buy fresh, local produce.
Student organizations shared how they are making a difference in the areas of poverty, local and global hunger, fresh water supplies, environmental issues and more.  Those interested in outdoor recreation had an opportunity to join the Outdoor Adventure Club and learn about Auburn Outdoors, the Nature-Based Recreation Minor, and the Natural Resources Management Degree.
Other academic offices also provided information about their offerings, such as the Common Book Program and the Minor in Sustainability Studies. In addition, the College of Liberal Arts promoted their No Impact Week, which they host in the spring.
The picnic brought a variety of folks together around great food, live music, and a passion for making a difference in the world.  The free prizes added an element of suspense, as the many donations were raffled off throughout the event.  Prizes were donated by Earth Fare, Mountain High Outfitters, Ander's Bookstore, Yogafly, Auburn Outdoors, and from the picnic sponsors. The grand prize was the Auburn-themed bike donated by Parking Services, which works to alleviate parking congestion on campus.
The picnic is a yearly event sponsored by Tiger Dining, the Waste Reduction and Recycling Department, Academic Sustainability Programs, the Natural Resources Management Degree, and the Office of Sustainability.  We hope you can join us next year when we come together to connect students, both new and returning, to all the different sustainability-related happenings at Auburn University!