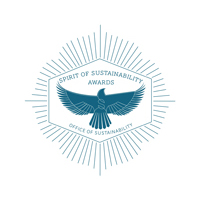 Do you know someone or a group of people who are making significant contributions toward sustainability? If so, please nominate them for a Spirit of Sustainability Award!
All students, faculty, staff, and/or alumni of Auburn University are eligible to be nominated. Accomplishments can be from any or all points on the Sustainability Compass: Nature, Economics, Society, and Wellbeing.
You can read about award criteria and stories of recipients from the prior 3 years on the awards webpage. Some of the group awardees include student organizations, programs and building projects on campus, and projects in communities.
In addition to other awards, each year we honor one student who has gone above and beyond with the William Olson Student Achievement Award. Do you know a student who is highly passionate and committed and who is making a difference in creating a sustainable future?  If so, we encourage you to nominate him/her today!
It's easy to nominate someone. Just go to the nomination form to describe motivations and impacts of the person or group, and how they are engaging others. The deadline for submission is Tuesday, February 9th by close of business.
The Awards Committee looks forward to reading your nomination for an award recipient, and honoring this year's awardees on April 20th.