By Grace Reilein.
When exploring the United Nations Sustainable Development Goals, it is important to note that many distinct factors allow for a goal to be reached. There cannot solely be work in the oceans, or in agriculture, but there must be collaboration between policymakers, companies, organizations, and the citizens of this planet. Auburn graduate Sarah Lessard encompasses this through her conservation policy work. Sarah is originally from Louisiana and came to Auburn for a master's degree in natural resources and is now a biologist working in regulations. Sarah's Auburn experience has taken her beyond what she could have initially imagined, and she has advice for those who are interested in conservation. In conserving migratory birds, Sarah is moving the needle toward the accomplishment of SDG (Sustainable Development Goal) 15: Life on Land. She understands the importance of collaboration to effect change as she works to develop policies meant to protect, restore, and conserve migratory bird species. But how exactly did she go from being a graduate student at Auburn to being a federal government employee?  
During her time at Auburn, Sarah's graduate research focused on the human dimensions of whooping cranes in Alabama. Endangered whooping cranes face many threats, including poaching, and the goal of Sarah's project was to identify the social constructs that best predict attitudes and behaviors toward the species. She gathered information for her project through surveys sent to birders, waterfowl hunters, and other Alabama residents. While results varied by audience, it was found overall that having a strong emotional connection and sense of responsibility toward the species led to more positive attitudes and behaviors. Sarah discovered that sharing scientific facts and information about whooping cranes does not connect people to the species but found that promoting personal relevancy and enthusiasm that these rare birds choose to stop in Alabama during their migration does. Her findings are important for outreach strategies intended to improve public support for the species. Her thesis on the conservation of whopping cranes outlines what it means for humans to live with the land.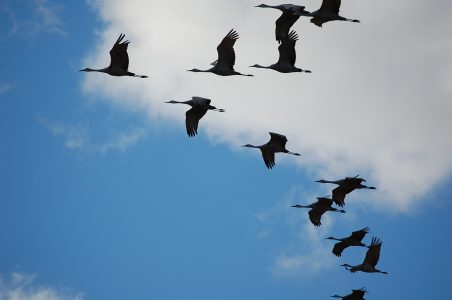 After her time at Auburn concluded, Sarah worked in several wildlife conservation positions. She currently works in Washington, DC, for the U.S. Fish and Wildlife Service Migratory Bird Program. There, she helps develop regulations meant to conserve migratory birds protected under the federal Migratory Bird Treaty Act. Sarah explained that nearly 3 billion birds have been lost since 1970, contributing to the worldwide biodiversity crisis. She works to identify threats to migratory birds, including those caused by human activities, and then to figure out how to combat them through policy. When asked about the importance of the policy side of conservation, Sarah explained that field work is a necessary and critical component, but the actions taken in the field need to be complemented by conservation policies, rules, and regulations to be most effective. In her conservation work, Sarah directly contributes to SDG 15 Life on Land. She works to figure out how human interactions and activities impact the land to better preserve ecosystems, wildlife, and habitats for future generations. This work of halting biodiversity loss will ensure that resources are here for all in the future.  
For those of us still here at Auburn University, Sarah reflected on her time at the school. Her work at Auburn made her realize the importance of considering humans and their impact on the natural world. She learned how to consider human thoughts, perspectives, and viewpoints in her conservation work. She stated that she would not be where she is today without the research on whooping cranes that she completed at Auburn. For those who are considering a career in conservation, policy, or both, Sarah has some advice to offer: "Keep an open mind and be flexible… you have a goal in mind, sometimes there won't be a straight path, you may have to meander a bit." Sarah had never thought that she would be working in a policy position, but she took a leap, and now she loves it. She encourages everyone to keep an open mind and be willing to try new things. These are the qualities of a changemaker, and the world could always use some more change.  
 Post contributed by Grace Reilein, Program Coordinator, Auburn Office of Sustainability
Learn about the SDGs & AU and Auburn's contributions related to this post: